about us
The Landing Development Group is a Mississauga based development company focused on delivering sustainable solutions to contested sites. We realized that The Landing at Little Lake represents an excellent opportunity to develop a new Adult Active Lifestyle Condominium with adjacent Seniors Residences, located in a picturesque water setting, close to the highway, commercial amenities, and nearby medical services.
The 55-plus age group has almost entirely driven growth in Barrie population in recent years. We've responded to the undersupply of resales homes by engaging the community through a series of meetings prior to rezoning and site plan submission, resulting in unanimous approval at the municipal level.
The development consists of two buildings, a Condominium Project—a seven-story, 137-unit (56 one bedroom + 81 two bedrooms) and a Seniors Living Project—a four-story, 141-unit managed facility. The project will also include an exercise centre, indoor swimming pool, spa (nail and hair salon), theatre, pub, library, sitting areas and unparalleled access to the lake and surrounding nature.
The Project Financing strategies are structured and facilitated in conjunction with The Landing Development Group and CFO Capital, through major banks, and other major financial institutions. We are very excited to announce the launch of The Landing at Little Lake and hope to meet you in person at our on-site sales centre.
---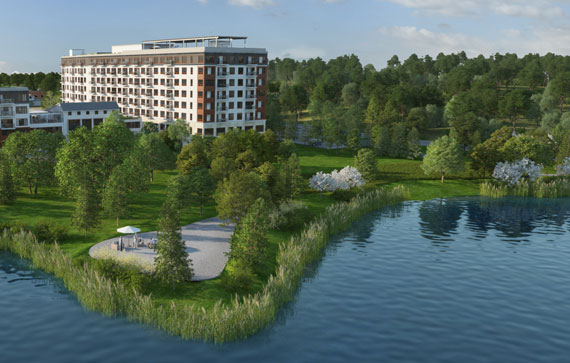 A Unique Approach to Community Involvement in Design and Development
The Landing Development Group has chosen a unique approach to reach out to the community rather than the traditional developer approach of preparing plans and options for submission and approval directly to the city.
The Planner, Developer, and the Architect suggested a series of community meetings take place before any submission, to allow the community an opportunity for feedback and input into the project. In a virtually unprecedented way, The Architect presented no designs in the first meeting, instead choosing to just listen to the needs, desires and wants of the community.
Allowing the community to speak to the project in this way, opened the door for more dialogue and increased community involvement in the project. Concepts based on early feedback were subsequently produced and discussed with the residents of the Little Lake area in further meetings - again allowing for extensive public involvement in the development's use, design, build form and direction. This approach further smoothed the way for unanimous official approvals being given to the project.
---
RYAN COMPANY ARCHITECT
---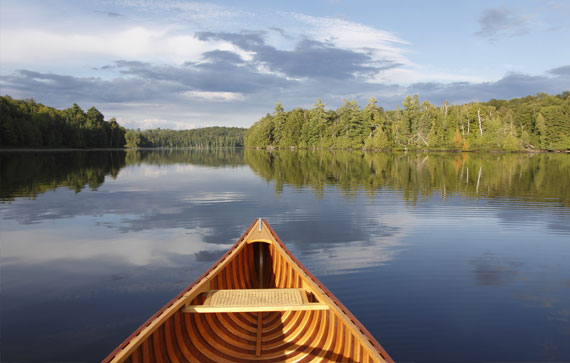 PHILOSOPHY
"Don't take more than you need, just what is necessary to sustain."
Duff Ryan is an award-winning architect currently practicing architecture in Toronto, Ontario, Canada. Ryan Company Architect Inc. is a leading proponent of the design build process, harking back to the tradition of the Architect as "Master Builder" with an eye to sustainability.
Duff looks primarily to Indigenous cultures and worldviews: "don't take more than you need, just that what is necessary to sustain." Coupled with simple modern technologies, it could, and frankly, must change the world. Born and raised in Northern Ontario, Duff is from the farming community of New Liskeard and maintains his connection and love of Northern Ontario through his family islands on Lake Temagami.
Ryan Company staff have extensive expertise in construction and design and offer full services and outstanding quality. Our combination of design and extensive development experience allows us to create buildings which are not only beautiful but also smart, cost controlled and buildable. We focus on environmentally friendly special projects including custom homes and additions; custom built commercial offices and infill development projects. The Landing at Little Lake provides an opportunity to combine Duff's pragmatic approach to architecture with his love and respect for the natural surroundings it shares.
---
landscape architect
---
At Carrick Design, our goal is to provide our clients with excellent service and outstanding value, with creative design solutions that withstand the test of time.
The number of variables inherent in landscape design and the character of various projects is unlimited. We approach each new project with an entirely open mind to create something that is unique to a particular site and client. However, we do believe certain qualities set great landscape design from most others. All our sites have distinctive features, intriguing character, a definitive atmosphere, tremendous variety, and they encourage creative and thoughtful design from our Architects.
From the front courtyard putting green, to the beautifully treed boulevard, to the walking trails, gardens, and docks in our new waterfront park, Carrick Design has created a stunning landscape for the residents of "The Landing" to enjoy for years to come.
---
structural engineering
---
Since 1997, Atkins + Van Groll's full-service design firm has a rich history of innovative architectural work with over 12,000 projects completed. They have extensive structural engineering experience in mid-rise building development including the design of more than 30 adult lifestyle residences across Canada and the U.S.
Atkins + Van Groll's expertize in the field of senior home design makes them an invaluable member of our design team. The structural system of hollow core precast slabs supported on steel beams and columns which are the system selected for this project is a tried and tested system and one that Atkins + Van Groll expertise. This system, along with Atkins + Van Groll's expertise, allows for design flexibility while ensuring structural integrity.
Atkins + Van Groll's extensive construction experience will enable the structure of the Landing at Little Lake development to be on time and budget.
---
civil engineer
---
Pearson Engineering Inc. is a civil consulting engineering firm providing cost effective and innovative design and project management services for land development and municipal civil projects. Started in 2006, Pearson has experienced consistent growth in size and reputation and are committed to continuing this trend. This growth is founded on service commitment to clients with clear communication of paramount importance to corporate values. While Pearson has worked on many sites, a significant number of completed projects are included in Barrie including: Treelawn Industrial Subdivision, Linear Transfer Automation, Innishore South Public School, Cundles Heights Public School, St. Catherine of Sienna School, Eastview Secondary School, Holy Spirit Church, Barrie Operations Centre, Barrie Fire Station No. 3 and Barrie Community Sports Complex.
---
planner
---
Jones Consulting Group Ltd. offers specialized planning services in the field of renewable energy projects. The rapid growth of a relatively new land use is creating land use challenges for municipalities, agencies, developers and residents. As a result, land use compatibility is a critical consideration for local municipalities and developers when trying to establish alternative energy projects. The challenge is to provide opportunities for alternative energy facilities while ensuring that adverse impacts are minimized. The Jones Consulting Group has specialized in the development and assessment of land use policies related to alternative energy across Ontario including Essex County, Niagara Region, Town of Niagara-on-the-Lake, Town of the Blue Mountains and the Municipality of Grey Highlands. This work complements our experience with alternative energy developers, evidence at the OMB, and overseas projects.
---
mechanical design
---
A key member of our design team is CBM Group and Associates Ltd. CBM has extensive experience in the development and construction of numerous Residential and Institutional buildings, dining halls and indoor swimming pools, including the design and construction of more than 50 Seniors Homes and Condominiums.
CBM Group's extensive experience in the field of Seniors Home Design makes them an invaluable member of our Design Team. CBM will ensure that the Mechanical and Electrical systems are "State of the Art," highly energy efficient and will provide a high level of control. Each unit, both condominium, and seniors home will have individually controlled air conditioning and heat for the ultimate in home comfort.
---
construction
---
Bertram Construction is a local Barrie company that has been shaping the landscape of Simcoe County and the surrounding area for over 85 years. Bertram Construction is committed to using local resources, trades and suppliers whenever possible. The Bertram team having left their mark on Tottenham Pond and Cameron Lake, are the perfect partners for our project on Little Lake.
As a third-generation family owned and operated company, Bertram Construction will not only be able to build The Landing, but help build a new home for all the new residents at The Landing at Little Lake.
---